Bible Book:
Matthew
Bible Book Code:
4002602001
Scene no:
3 of 7
Bible Reference & Cartoon Description
Matthew 26:20-24 (ANIV)
When evening came, Jesus was reclining at the table with the Twelve. And while they were eating, he said, "I tell you the truth, one of you will betray me."
They were very sad and began to say to him one after the other, "Surely not I, Lord?"
Jesus replied, "The one who has dipped his hand into the bowl with me will betray me. The Son of Man will go just as it is written about him. But woe to that man who betrays the Son of Man! It would be better for him if he had not been born."
DRAWING NOTES:
TIME OF DAY:
Verse 20 tells us it is evening.
LIGHTING NOTES:
An oil lamp (above the characters & out of view) provides a warm yellow glow that illuminates this scene.
CHARACTERS PRESENT:
From left to right, back row: James (son of Zebedee and brother of John), Simon/Peter, Jesus, John (son of Zebedee and brother of James).
In the front row, from left to right (mostly with their backs to us): Matthew/Levi the tax collector, Thomas/Didymus ("doubting Thomas"), James/Cleopas (son of Alphaeus), Bartholomew/Nathaniel.
RESEARCH/ADDITIONAL NOTES:
This scene shows Jesus (in the centre of the picture) sitting cross legged on a cushion, explaining to his closest disciples that he will soon be betrayed. We have the historical advantage of knowing who that will be, but at this point the disciples didn't know it would be Judas Iscariot. Hopefully I have created the appropriate shocked, surprised expressions on the faces of Jesus' disciples.
This scene takes place in an upper room, somewhere in the city of Jerusalem. Notice that I have included a red curtain, drawn across the opening to the room, which would provide some draught protection for Jesus & his followers.
Here's the scene without the figures.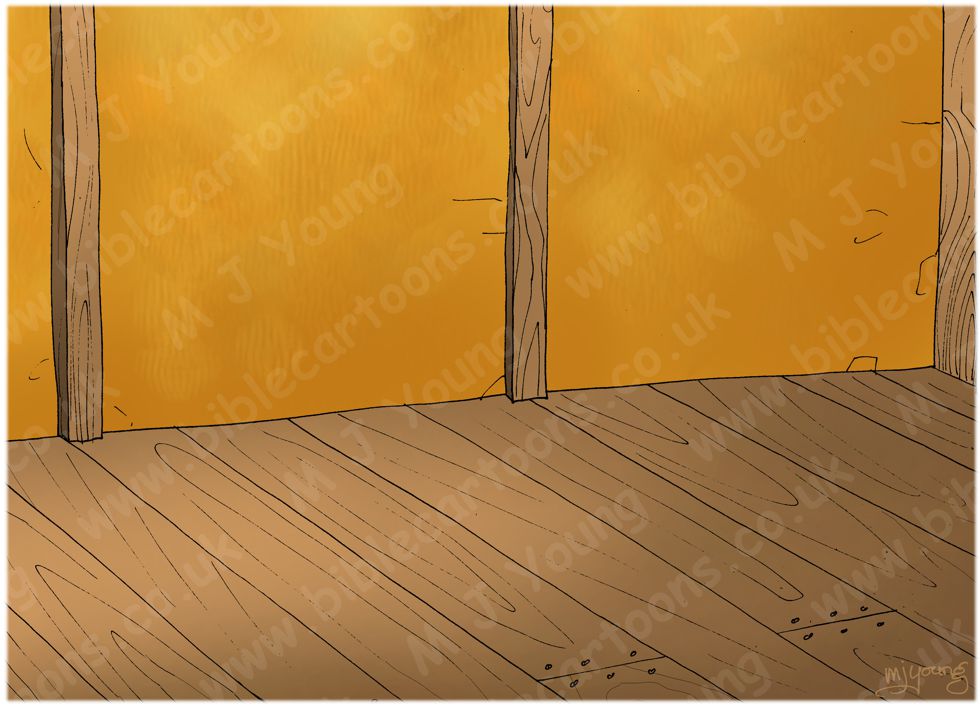 Matthew 26 – The Lord's Supper – Scene 03 – One will betray me – Interior

Here is the original, wide screen (A3) version. The faded edge rectangle is what I crop to, in order to make the finished Bible Cartoon.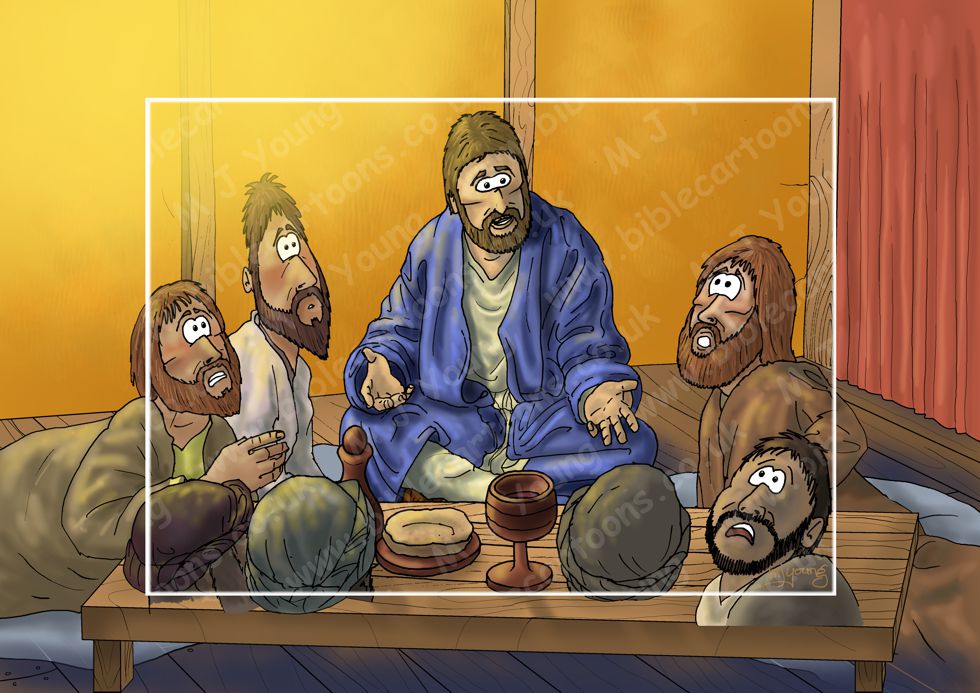 Matthew 26 – The Lord's Supper – Scene 03 – One will betray me A3 980×693px col