Bible Book:
Matthew
Bible Book Code:
4002601901
Scene no:
2 of 7
Bible Reference & Cartoon Description
Matthew 26:19 (ANIV)
So the disciples did as Jesus had directed them and prepared the Passover.
DRAWING NOTES:
TIME OF DAY:
Unspecified in Bible narrative. I have set this scene in the morning.
LIGHTING NOTES:
Reflected sunlight illuminates this scene, which is coming in through the door, casting shadows to the left of figures & objects.
CHARACTERS PRESENT:
From left to right: John (son of Zebedee; brother of James), an un-named disciple/servant/helper, Simon/Peter (with his back to viewer), an un-named female disciple/servant/helper (in purple robes).
RESEARCH/ADDITIONAL NOTES:
Although Matthew's gospel doesn't tell us exactly who the disciples were who asked Jesus where he wanted them to make preparations for Jesus to eat the Passover, Luke 28:8 informs us that it was Simon/Peter & John (son of Zebedee; brother of James) who were the two disciples sent into the city of Jerusalem to prepare the Passover meal/the Lord's supper. For this reason I have drawn these two men in my scene. I wondered if anyone else would have helped these two men, so I have added two more people who are helping them prepare the upper room for the celebration. Perhaps these are disciples of Jesus, or else servants of the house owner.
Through the doorway you can see tiled steps leading down to the ground floor, and beyond that, there are some house tops & the city walls of Jerusalem in the distance.
In Biblical times people gathered round low tables & reclined (see verse 20 in the next picture), probably lying on big floor cushions. That's why the table Simon/Peter & the lady helper are moving has such short legs on it. Also notice the three blue cushions (with blue tassels on their edges) already on the floor, which further suggests the reclined mode of feasting & celebrating conducted in Biblical times.
Here's the scene without the figures.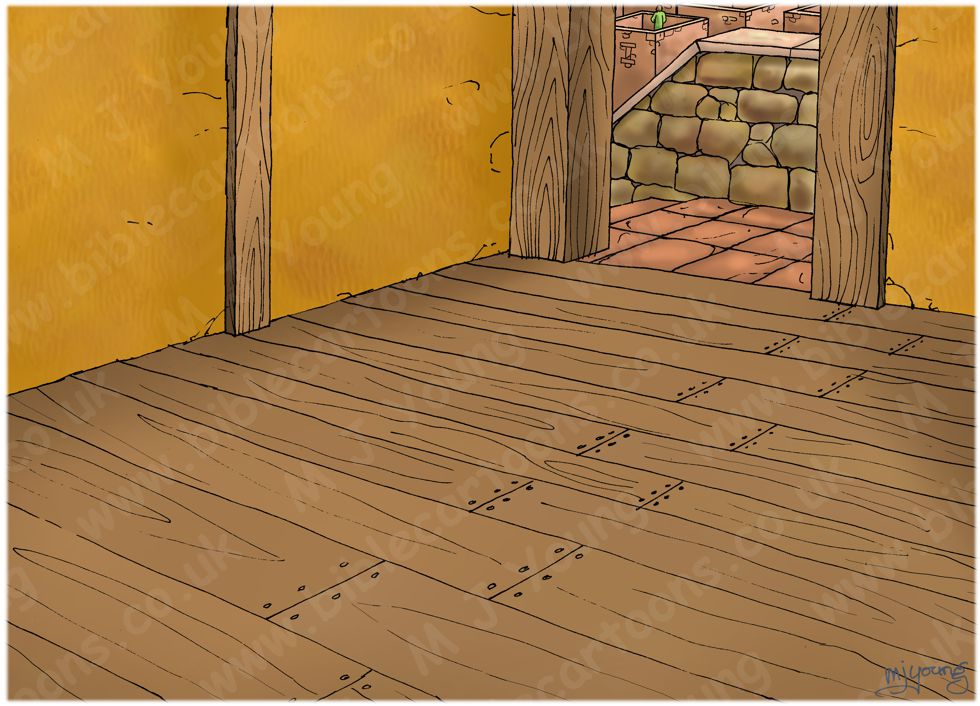 Matthew 26 – The Lord's Supper – Scene 02 – Passover preparations – Interior

Here is the original, wide screen (A3) version. The faded edge rectangle is what I crop to, in order to make the finished Bible Cartoon.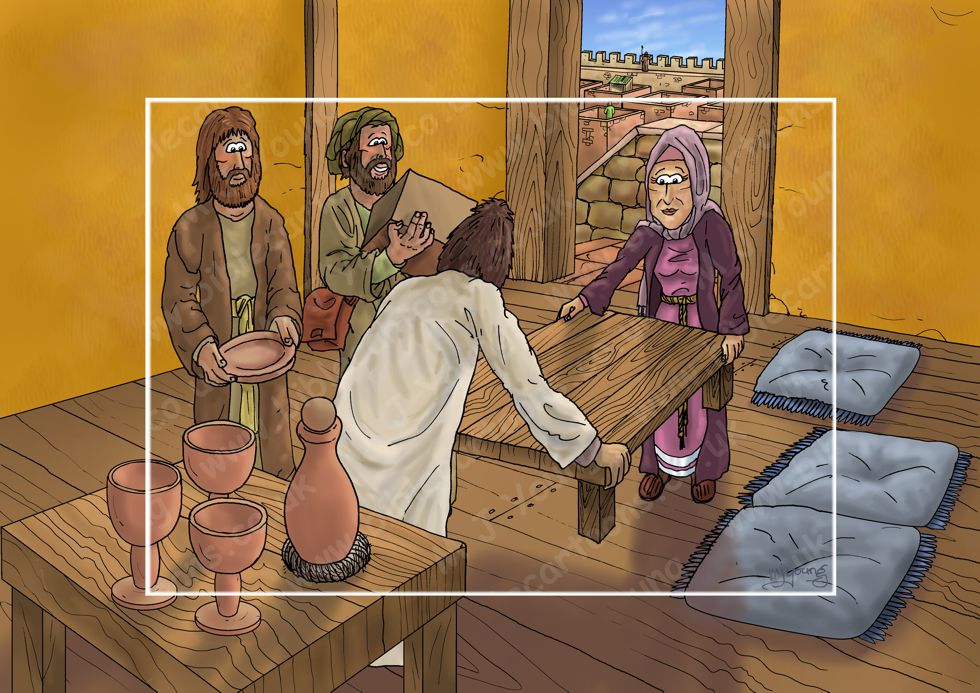 Matthew 26 – The Lord's Supper – Scene 02 – Passover preparations A3 980×693px col