Bible Book:
Matthew
Bible Book Code:
4002601701
Scene no:
1 of 7
Bible Reference & Cartoon Description
Matthew 26:17-18 (ANIV)
17 On the first day of the Feast of Unleavened Bread, the disciples came to Jesus and asked, "Where do you want us to make preparations for you to eat the Passover?"
He replied, "Go into the city to a certain man and tell him, 'The Teacher says: My appointed time is near. I am going to celebrate the Passover with my disciples at your house.' "
DRAWING NOTES:
TIME OF DAY:
Unspecified in Bible narrative. I have set this scene in the mid morning.
LIGHTING NOTES:
Sunlight (above & behind the viewer) illuminates this scene.
CHARACTERS PRESENT:
From right to left: Jesus the Christ, Simon/Peter, John, son of Zebedee (brother of James), Matthew/Levi, Judas Iscariot, Thomas/Didymus, James Cleopas (son of Alphaeus). Note: there are 2 un-named disciples in the near foreground.
RESEARCH/ADDITIONAL NOTES:
Matthew 26:6 informs us that Jesus was in Bethany at the home of Simon, a man who had previously had leprosy. This scene is the day after, and shows Jesus & his disciples having walked the few miles from Bethany to Jerusalem, via the Mount of Olives. In fact, my scene above is a view from the Mount of Olives, looking westward towards Jerusalem. You can see the temple, with its high central building & surrounding courtyards, with the Fortress Antonia to the right of its outer walls. The fortress had 4 square towers at each corner. There are numerous houses and other buildings inside the walls of the city.
The question mark at the end of title is to show that the disciples are asking Jesus where he would like to celebrate the Passover.
Here's the scene without the figures.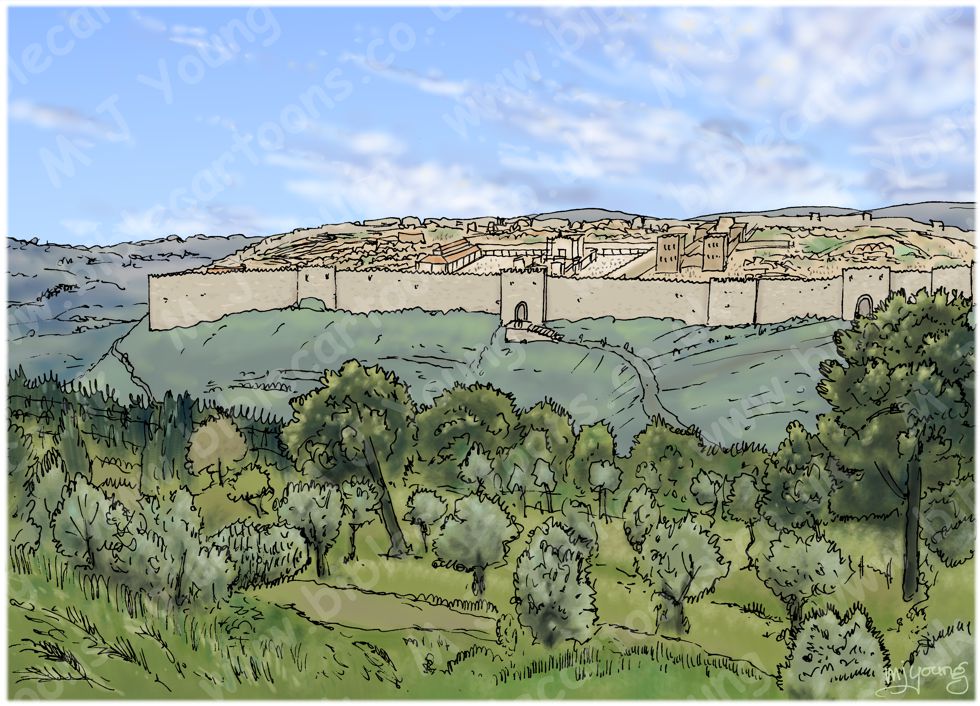 Matthew 26 – The Lord's Supper – Scene 01 – Where to celebrate Passover? – Landscape

Here is the original, wide screen (A3) version. The faded edge rectangle is what I crop to, in order to make the finished Bible Cartoon.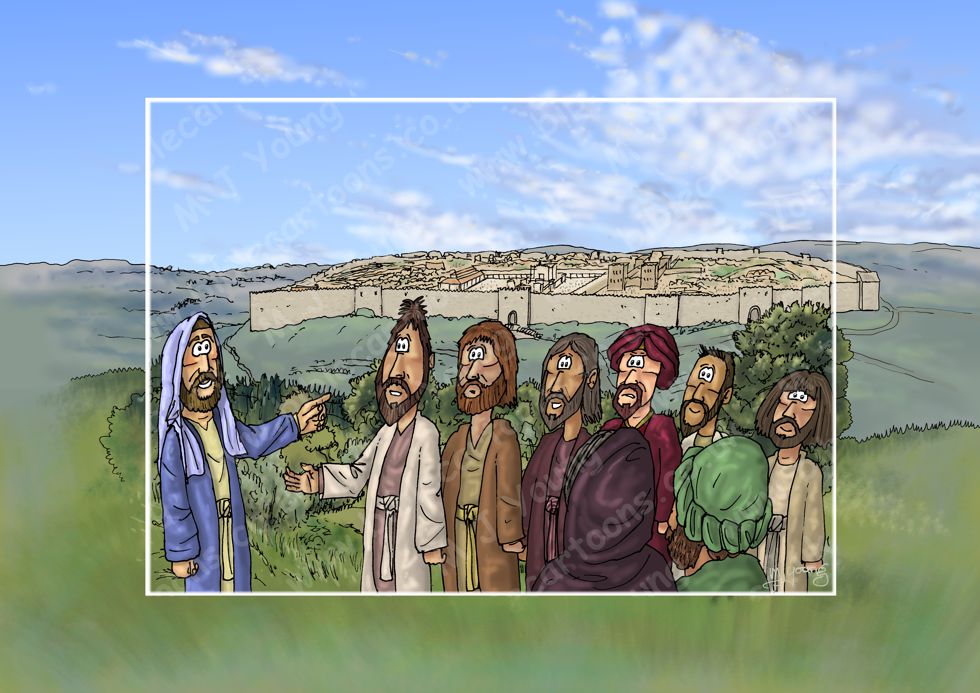 Matthew 26 – The Lord's Supper – Scene 01 – Where to celebrate Passover? A3 980×693px col