Bible Book:
Acts
Bible Book Code:
4400204201
Scene no:
11 of 12
Bible Reference & Cartoon Description
Acts 2:42-43 (NLT)
42 They [those who believed the gospel message] joined with the other believers and devoted themselves to the apostles' teaching and fellowship, sharing in the Lord's Supper and in prayer.
The believers meet together
43 A deep sense of awe came over them all, and the apostles performed many miraculous signs and wonders.
DRAWING NOTES:
TIME OF DAY:
I have set this scene in the late morning.
LIGHTING NOTES:
Sunlight diffuses into this scene from above.
CHARACTERS PRESENT:
Various un-named early Christian believers.
RESEARCH/ADDITIONAL NOTES:
I decided not to have any of the Apostles in this scene, instead I have un-named Christian believers, representing the thousands of new converts to Christianity. They are seen here praying for a man (who has his hands in the air, praising God) who has just been healed of some kind of lameness. I wanted to show the great outpouring of God's kindness, grace & miracle-working power in this scene.
There are two slightly different versions of this scene. In the other version (called Acts 02 – Pentecost – Scene 11 – Miracles & Awe (Sunlight version) I have indicated God's blessing, favour & miraculous power falling on the believers by including a light coming from above.
I really enjoyed drawing the characters in these scenes. I had to take various photographs (of myself!) in order to figure out how to draw the arms, legs, clothing folds & poses of the figures. Some of the stances are quite complicated to draw after all!
In reference to Acts 2:32, The Bible Commentary [*1] gives us some idea of what sort of signs & wonders were wrought by the early Christians: The words terata, sēmeia & dynameis are used in the original Greek translation of the New Testament, to indicate these signs & wonders. These three Greek words mean, "miracles evoking awe", "miracles pointing to a divine truth" & "works of power" respectively.
The Bible Commentary also gives us the purpose behind these signs & wonders, in that they showed &/or proved the authenticity & truth of what the apostles were preaching & the early Christians encountered & saw for themselves.

Here's the scene without the figures.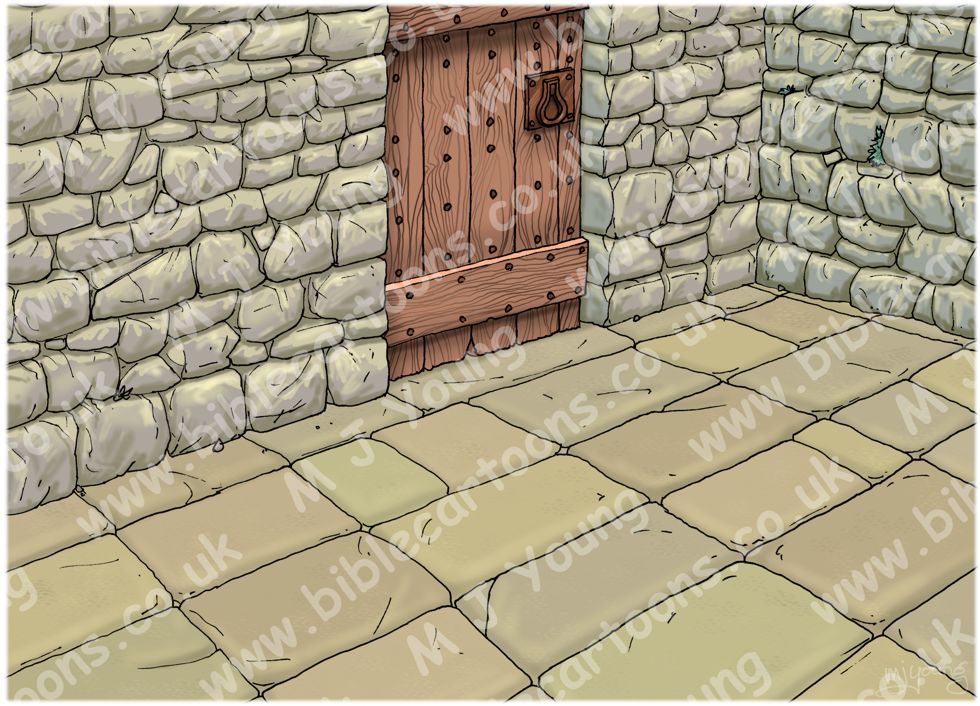 Acts 02 – Pentecost – Scene 11 – Miracles & awe – Townscape

[*1]
'Wonders (terata, "miracles evoking awe") and miraculous signs (sēmeia, "miracles pointing to a divine truth") authenticated the veracity of the apostles (cf. 2 Cor. 12:12; Heb. 2:3-4). The apostles performed many such "signs and wonders" (Acts 4:30; 5:12; 6:8; 8:6, 13; 14:3; 15:12). Christ too had performed many "wonders" and "signs"—and also "miracles" (dynameis, "works of power").
(Source: The Bible Knowledge Commentary: An Exposition of the Scriptures by Dallas Seminary Faculty.)