Total no. of cartoons on this website: 381
---
Bible Book: Luke
Scene no: 3 of 5
Bible Book Code:
4201003301
Title:
Luke 10 - The Good Samaritan - Scene 03 - Good Samaritan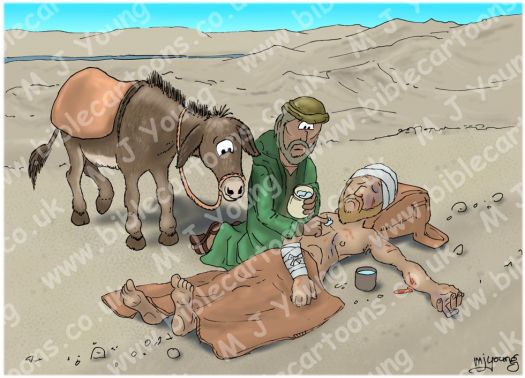 Bible Reference & Cartoon Description
Luke 10:33-34a (NLT)
"Then a despised Samaritan came along, and when he saw the man, he felt deep pity.
Kneeling beside him, the Samaritan soothed his wounds with medicine and bandaged them…
DRAWING NOTES:
TIME OF DAY:
Scene 03 – mid morning.
LIGHTING NOTES:
Scene 03 – Harsh desert lighting – hot. short shadows.
CHARACTERS PRESENT:
Scene 03 – the Jewish victim, the Samaritan & his donkey
RESEARCH/ADDITIONAL NOTES:
Google earth position & orientation – 31 deg 50' 45.86" N 39 deg 20' 36.49" E looking SW
The water in the background is the Dead Sea.
Jericho is off to the left, Jerusalem off to the right.