Total no. of cartoons on this website: 348
---
Bible Book: Luke
Scene no: 4 of 10
Bible Book Code:
4200200902
Title:
Luke 02 - The Nativity - Scene 04 - Shepherds & Angel (2)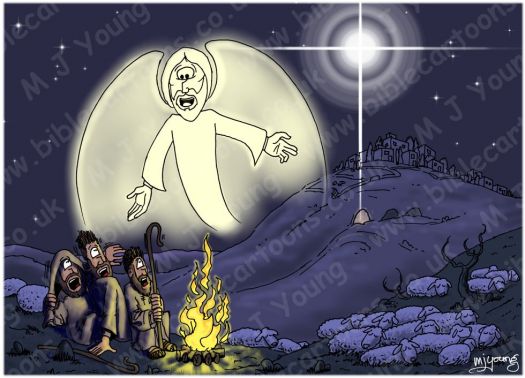 Bible Reference & Cartoon Description
Luke 2:9-12 (NLT)
Suddenly, an angel of the Lord appeared among them, and the radiance of the Lord's glory surrounded them [Shepherds]. They were terribly frightened, but the angel reassured them. "Don't be afraid!" he said. "I bring you good news of great joy for everyone!
The Saviour—yes, the Messiah, the Lord—has been born tonight in Bethlehem, the city of David!
And this is how you will recognize him: You will find a baby lying in a manger, wrapped snugly in strips of cloth!"
DRAWING NOTES:
TIME OF DAY:
Night
LIGHTING NOTES:
The angelic glow & star of Bethlehem shine down upon the shepherds, sheep & landscape.
The camp fire of the shepherds forms a secondary light source.
CHARACTERS PRESENT:
Angel, 2 shepherds & a lot of sheep!
RESEARCH/ADDITIONAL NOTES:
This scene will form part of our church's outdoor Christmas carol service at 4pm on 20/12/2009. We project my cartoons & animations, along with the words to the Christmas songs, onto screens on the local community building walls.